A Legendary Meal at a Great Value
You'll love the wide selection of delicious pizza, crispy chicken, fresh salads, and fixin's—plus desserts to make your mouth water. Did you know that when you dive into the buffet at Pizza Ranch, unlimited drinks and desserts are included? Yes, that means all- you-can-eat slices of Cactus Bread, fruit dessert pizzas and chocolate chip cookies!
Free Buffet Perk: Buffet Your Way
Don't see your favorite pizza on the buffet? Just request it and we'll make it, bake it, and give you the very first slice. It's "Buffet Your Way", and it's what makes us the most famous buffet in the Midwest. This legendary perk is included in the price of your buffet!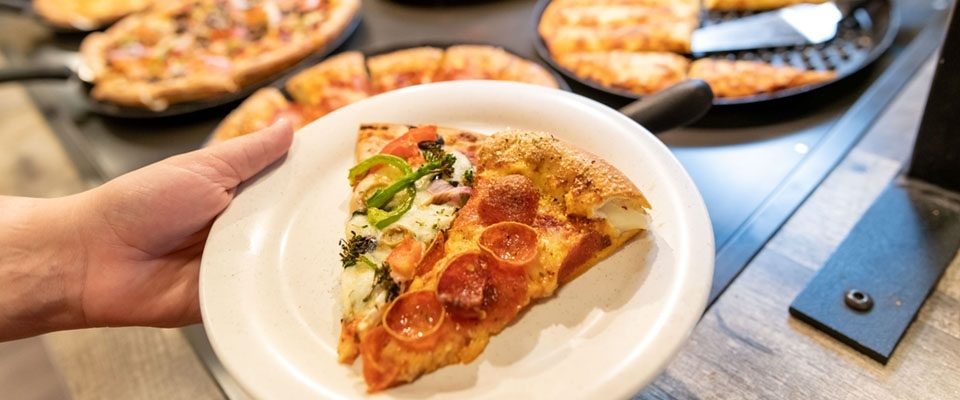 Home of the Pizza Lover's Pizza®
It's everyone's favorite pizza. With a variety of crusts, sauces and toppings, you're sure to find one to tempt your taste buds. Request your favorite using our "Buffet Your Way" option.
The Country's Best Chicken®
You'll love The Country's Best Chicken with its perfect blend of spices and seasonings. It's mouthwatering good and cooked to perfection, crispy on the outside and juicy on the inside. Look for other tasty preparations on our buffet, including our saucy chicken.
Salads and Sides
From fresh garden-green salads to coleslaw, our buffet lets you create a perfect start to your meal. And our famous mashed potatoes and gravy are the perfect addition to The Country's Best Chicken. Or try Ranch wedges with just the right amount of crispiness outside and potato fluffiness inside. Plus, our perfectly prepared vegetables or a cup of piping hot soup will help balance out your meal.
Desserts
No meal is finished without a great dessert or two. Cactus Bread® is our signature sweet treat topped with cinnamon streusel and sweet icing. Our dessert pizzas come in a variety of fantastic fruit flavors and shouldn't be missed. Craving chocolate? Try our ooey-gooey Chocolate Chip Cookie! And for you lucky ones, some buffet locations even have soft serve ice cream!
Take 2: Our To-Go Option
Can't stay for our famous buffet? Try Pizza Ranch's Take 2 quicker meal option! Choose two entrees and two sides from our buffet, and be on your way! We know it's hard to narrow down the choices, so a beverage and extra sides are available for an additional charge.
Only available at participating Pizza Ranch restaurants. Pricing may vary by restaurant.
Kids Eat Free
Pizza Ranch offers a handy dandy way to save and enjoy Pizza Ranch with Kids Eat Free events.
Learn More
Plan A Party at the FunZone Arcade
Some of our Pizza Ranch locations have a FunZone Arcade! View our party packages and plan a party online!
Plan A Party