Rola Awarded Manager of the Year
June 20, 2022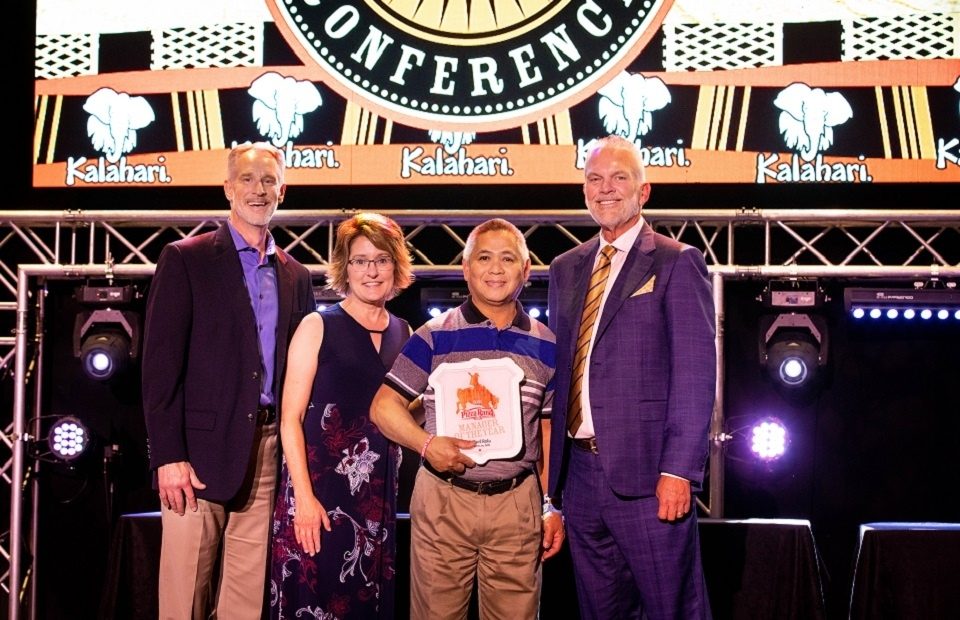 ORANGE CITY – Pizza Ranch Inc. awarded Rafael Rola of the Champlin Pizza Ranch its Manager of the Year award at the company's 2022 Awards Banquet at the Kalahari Resort in the Wisconsin Dells on June 14.


"Originally, I was going to serve in the General Manager role, but after we interviewed Rafael—with his 20+ years restaurant leadership experience with Del Taco, Chipotle and Leeann Chin—I said I would be a fool to have him work for me, but instead I would work for him," said Randall Hubin, owner of both the Andover and Champlin locations.

"In many ways, Andover should not be as successful as it is, based on the specific location, demographics, etc," added Hubin. "But Rafael set the stage early on and had the team focused on quality food, a clean restaurant, and an overall dedication and focus on 'giving every guest a legendary experience'."
In the summer of 2018, Randall and his wife Sheryl opened the Pizza Ranch in Crystal where Rafael joined the management team.
Then, in March of 2020, Covid hit and like most restaurants across the country, dining rooms were forced to close. A short time later, protests, riots, and significant damage set Minneapolis ablaze following the George Floyd incident.
Many businesses around the Crystal Pizza Ranch boarded up and closed due to its proximity to these riots.
Though the Crystal Pizza Ranch remained damage free, guests still did not feel safe returning where the result was a significant loss in sales and transaction counts.
With the landlord unwilling to work with the Hubins on rent reduction, the location had to be permanently closed in October 2020.
"Many GM's would have just left at this time—but not Rafael," Hubin said. "We had already purchased the Champlin Pizza Ranch and started a full remodel and expansion. Rafael stayed with us, as did most of his Crystal leadership team and several Crystal team members stayed as well."
Due to a new surge in Covid cases the opening of the Champlin location had to be put on hold, finally opening in June 21, 2021.
"Throughout all of this Rafael was a rock and never wavered in his commitment and hard work," Hubin said. "He believed that together we could overcome these adversities and that the Champlin location would reopen and would stand as a beacon in the community to Glorify God by Positively Impacting the World. And for this reason, we thank Rafael and his team in Champlin, and believe that Rafael Rola is indeed the Pizza Ranch Manager of the Year."
The Manager of the Year Award is one of our top honors. This award recognizes one Pizza Ranch manager who stands out among all other managers across the chain, and who has driven his or her restaurant's performance in the most exceptional way.
About Pizza Ranch
Cultivating its mission "To give every guest a legendary experience" since its inception in 1981, Pizza Ranch connects with its communities in a way that provides bridges for friends, family and colleagues to come together. Today, Pizza Ranch is based in Orange City, Iowa and owns, operates and franchises 210 locations in 14 states. Consistent growth has been a Pizza Ranch staple, as the brand has become a beacon of community involvement and exceptional food. The Pizza Ranch buffet features legendary pizzas, crispy ranch chicken, salads and desserts, and is delivered with an unmatched service quality..